Javan Tiger - Panthera tigris sondaica
Javan tiger information and facts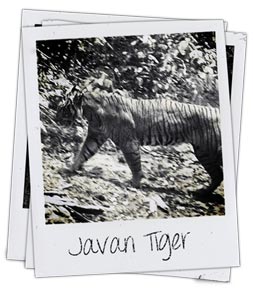 The Javan Tiger is a now extinct subspecies of tiger that adapted and evolved to live on the island of Java in Indonesia. It was one of the three Indonesian tiger subspecies: the Javan tiger, the Bali tiger, and the Sumatran tiger. Today only the Sumatran tiger remains, hanging on by a thread and critically endangered.
Indonesia is unique among tiger range countries as the only place in the world where tigers evolved on islands. The extinct Javan and Bali tigers, together with the critically endangered Sumatran tiger, all evolved from a single tiger ancestor called the Sunda tiger. It is thought that each tiger subspecies became isolated and adapted uniquely to its island home when rising sea levels after the last Ice Age (about 10,000 years ago) isolated the tigers into island populations and restricting gene flow. While evolving from a common ancestor, recent mtDNA analysis confirmed that the Bali, Java and Sumatran tigers are indeed unique tiger subspecies.
Recently, global tiger experts updated tiger taxonomy, grouping all three as one tiger sub-species called the Sunda Tigers (scientific name Panthera tigris sondaica). This scientific name previously referred to the Javan tiger as a subspecies and is now used to classify all three Indonesian island tigers.
Fossilized tiger bones and teeth have been found on Borneo Island and in Palawan in the Philippines suggesting that descendants of the Sunda tigers also existed in these places around 12,000 years ago. Tiger teeth were used by the leaders of tribal communities in Borneo for lie detecting and were considered to be powerful. Skins, skulls, teeth, and wall paintings of tigers have all been found in Borneo. It is not known, if they existed, why tigers went extinct in Borneo.
There are still occasional rumors of sightings in the remote hilly jungles of Borneo and Java, but no firm evidence to confirm that they exist, despite several surveys and camera trap studies. Most likely the fleeting glimpses of big cats are the Sunda clouded leopard in Borneo or the critically endangered Javan leopard.
Distinctive Javan Tiger Features
Compared to the other modern tiger subspecies, Javan tigers were smaller on average, which was an adaptation to the size of their main prey the Rusa Deer. They were larger than the closely related Bali tigers of neighboring Bali Island, and weighed up to 310 pounds. They had long, thin stripes and a narrow face with a relatively long and narrow nose. They had heavy black stripes on their orange coat with white belly fur. It was said to have the longest whiskers of any of the tiger subspecies.
Wild boar and Rusa deer made up the bulk of the Javan tiger's diet, selecting these larger prey species when available. Tigers make a large kill around once a week and spend 2-3 days eating their big meal. Small prey such as monkeys and lizards would have been consumed more quickly, eaten at a single sitting.
Cause of Javan Tiger Extinction
The Javan tiger subspecies was pushed to extinction on its island home due to the overpopulation of its only predator – humans. At the beginning of the 20th century, 28 million people lived on the island of Java. Their population was growing, and they needed to clear the lowland tropical native forest to farm more rice. By 1975 only 8% Java's original forest cover remained, and the human population had increased to 85 million people. In addition to rice, natural forest was replaced by plantations of teak, coffee and rubber.
While these plantations include trees and green cover, it is not a forest habitat that can support the tiger's most important prey – the rusa deer. The rusa deer were also severely depleted due to loss of habitat and disease. This loss of their natural prey (called prey-depletion) triggered a corresponding loss of Javan tigers.
With more human settlements moving in and coming closer and closer to the last edges of native forest, they came into conflict with Java's last tigers. They were forced into extinction due to hunting, poisoning and deforestation. By the mid -50s, only 20-25 tigers remained on the island of Java. The last reliable sighting (tracks) of a Javan tiger occurred in 1976 in Mount Betiri, the tallest and most remote part of the island. They were officially declared extinct in 2003.
Return of the Javan Tiger?
As the closest living relative of the extinct Javan tiger, it is critically important to conserve and protect the world's last Sumatran tigers and their habitat. Indonesia has already lost two of the planet's tiger subspecies to extinction. The Sumatran tiger is the last chance to preserve the genetic diversity, evolutionary uniqueness, and potential of the Sunda tiger subspecies Panthera tigris sondaica.
Where to See a Javan Tiger
The Javan tiger is extinct but it's still possible to walk in its footsteps to experience its former jungle home in the hills of Java. Perhaps you will find the paw print of a Javan leopard or a glimpse of a critically endangered rhino taking a mud bath.
Scientific Name: Panthera tigris corbetti (now included in the subspecies Panthera tigris tigris)
Conservation Status: EXTINCT (2003)
Last Official Sighting/Recording: 1976
Habitat Type: lowland tropical forest.
Range Countries (Distribution): Indonesia, limited to the island of Java.
Diet: Javan Rusa Deer, Wild Boar, Banteng, monkeys, and monitor lizards.
Why did the Javan tiger become extinct?
The Javan tiger was pushed to extinction due to the overpopulation of its only predator – humans. The rusa deer were also severely depleted due to loss of habitat and disease. This loss of their natural prey triggered a corresponding loss of Javan tigers.
Where did the Javan tiger live?
The Javan Tiger evolved to live on the island of Java in Indonesia. Indonesia is unique among tiger range countries as the only place in the world where tigers evolved on islands.
When did Javan tigers go extinct?
Javan tigers are believed to have gone extinct between 1950 and 1980. However, the last official sighting was recorded in 1976.
Save Tigers Live HD Wallpaper Mobile App and Screensaver
Screensaver and app sales benefit tiger conservation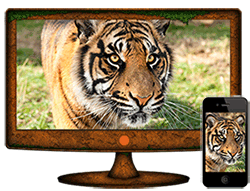 Proceeds from the Save Tigers HD Screensaver and app will be donated to the WildCats Conservation Alliance. 

WildCats Conservation Alliance is a wild tiger and Amur leopard initiative that funds carefully chosen conservation projects across Asia, working with a range of national and international conservation NGOs. It is a partnership between the Zoological Society of London (UK charity # 208728) and Dreamworld Wildlife Foundation (ACNC # 61150274463)'.
Windows XP, Vista, 7, 8, 10 (32/64-bit screensaver)
25 megabytes of disk space and 64MB RAM.
Supports MP3, WAV, WMA and MID
App size: Varies with device
App Permissions: Camera / Phone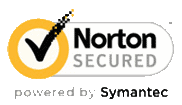 Once payment is made, you can download the screensaver and app immediately. The Android app can be downloaded directly from our website and includes a code to unlock the app. We have chosen not to include our app in the Google Play Store because of the very high fees Google charges.
Javan Tiger - Panthera tigris sondaica